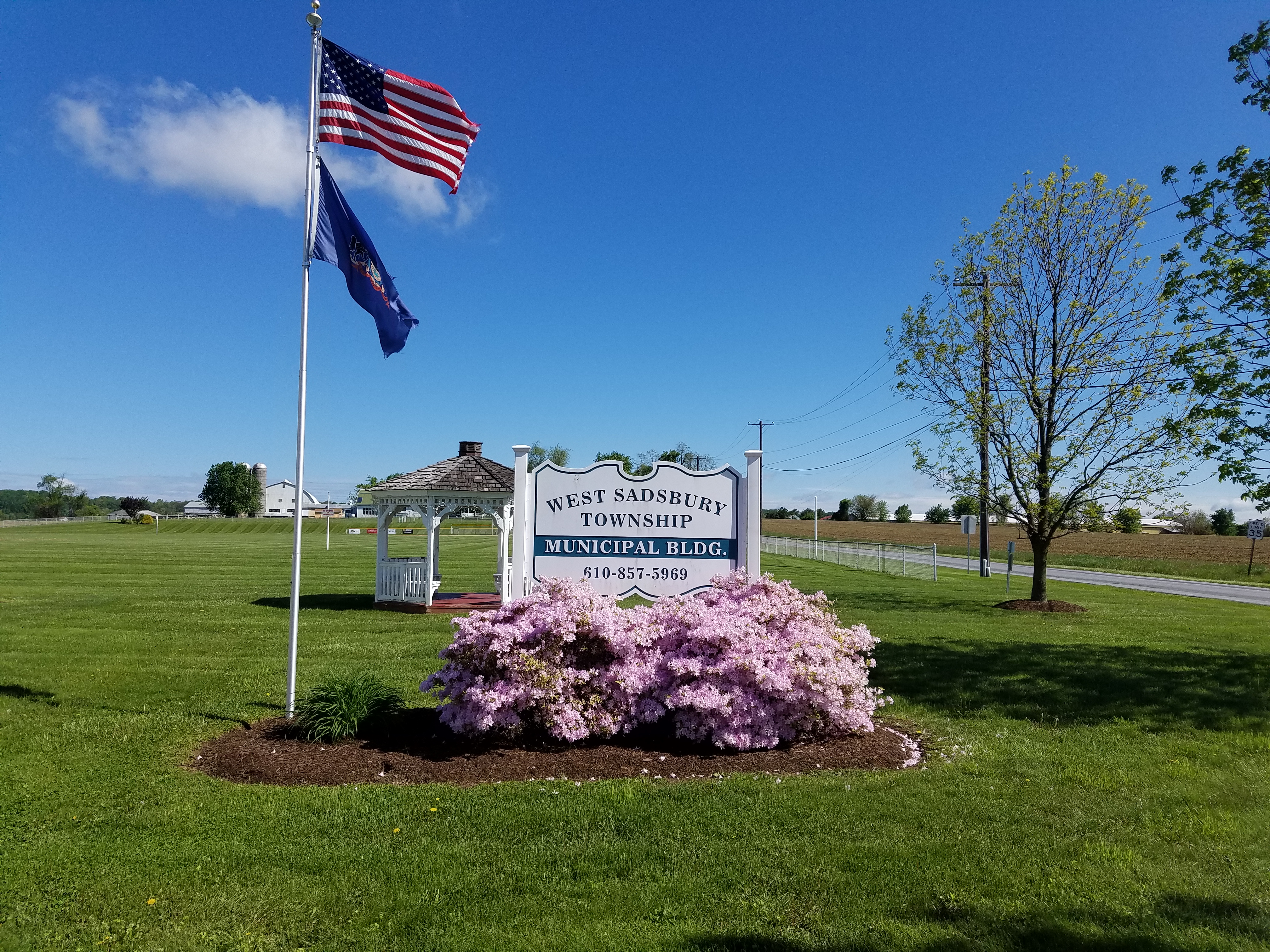 The West Sadsbury Township Building is OPEN to the Public per CDC guidelines

---
July 27 Planning Commission Agenda (PDF)
July 27 Work Session Agenda (PDF)
---
The time of the West Sadsbury Township's Supervisors Work Session (the fourth Tuesday of each month) to discuss policy issues will change to 8:00 AM beginning with the meeting on Tuesday, May 25, 2021. (posted May 13, 2021).  The meeting is open to the public.
---
Comcast is proud to support and participate in the federal government's Emergency Broadband Benefit (EBB) Program, a temporary
benefit to help eligible low-income households connect to the Internet and stay connected during the COVID-19 crisis.
Beginning May 12, this temporary benefit can be applied to all tiers of Xfinity Internet service, including Internet Essentials, and is available to both new and existing qualified customers.
Emergency Broadband Benefit Program Eligibility
*  Internet Essentials customers, automatically qualify for the Emergency Broadband Benefit and simply need to enroll in the program through Comcast.
*  Other qualifying criteria include a household member's qualification for the Lifeline program (such as Medicaid and SNAP), Pell Grants, free and reduced-price school lunch program, or if the household experienced a substantial loss of income since February 29, 2020
*  Eligible households can enroll through an approved provider or by visiting https://getemergencybroadband.org.
Comcast has a longstanding commitment to helping people connect, and stay connected, to the Internet, and this new federal program will further that goal. The company has invested billions of dollars to expand, strengthen and evolve our network to provide fast, reliable Internet service to neighborhoods across our footprint.  We have also committed $1B over the next decade to reach 50 million low-income Americans with tools and resources to help them cross the digital divide. The Emergency Broadband Benefit is a welcome, additional step in getting assistance directly to those in need during this time.
Attached, you will find a flyer with more information on how Comcast  is participating in the EBB program, in addition to a step-by-step process for how qualified consumers can access the subsidy. For more information, please visit: http://www.xfinity.com/EBB.
---
Second Household Hazardous Waste Event
FRIDAY, JUNE 25, 2021
Coatesville Learning Center 1635 E. Lincoln Hwy., Coatesville
For Information, Visit:
https://www.chestercountyswa.org/121/Upcoming-Household-Hazardous-Waste-Event
---
TWO NEW VACCINE CLINICS TO OPEN
SCHEDULE APPOINTMENTS NOW
Chester County Health Department to Restart Administration of Johnson   & Johnson Vaccine
Following the announcement by the Advisory Committee on Immunization   Practice (ACIP) to resume the administration of the Johnson & Johnson   vaccine, we will be opening appointments for two new large vaccine  clinic sites that will administer the Johnson & Johnson vaccine. 
These new sites are:
* The Exton Square Mall, in the former Sears store
Opening on Tuesday, April 27
Vaccine Clinic Hours: Tuesday – Friday 12PM-8PM  and Saturday &  Sunday 9AM-5PM
* Longwood Gardens, a drive-through site at the overflow parking area
Opening on Thursday, April 29
Vaccine Clinic Hours:Tuesday – Friday 11AM-7PM and  Saturday & Sunday 9AM-5PM
Appointments for the single-dose Johnson & Johnson vaccine can be   scheduled for both of these locations now. To schedule, go to 
https://chesterpaprod.service-now.com/vam.
Combined, these sites will have the capacity to administer 2,000 doses of the COVID-19 vaccine per day.
As of Friday, April 23, 60% of everyone in Chester County who is eligible to receive the COVID-19 vaccine has been partially or fully vaccinated.
============================================================
How to Contact the County with Your COVID-19 Vaccine Questions
Chester County's COVID-19 call center hours are Monday – Friday, 8:00 AM – 4:30 PM and Saturday, 9:00 AM – noon.
The call center can answer COVID-19 questions and can register individuals who do not have access to the internet, or would prefer to  speak to a live person.
You can also use the call center if you are having issues booking a  vaccine appointment online.
Vaccine clinic locations
In addition to the two new clinics opening this week, the Chester  County Health Department is holding vaccine clinics at:
* Government Services Center (West Chester)
* West Chester University's Sturzebecker Health Sciences Center
* Jennersville YMCA
* Kimberton Fire Company
* Brandywine YMCA in Coatesville
* Three clinics for seniors at the Phoenixville Senior Center, the 
Brandywine Valley Active Aging Center (formerly Coatesville Senior Center) and the Oxford Area Senior Center.
For information on all things COVID-19, go to:  
https://chesco.org/4376
.
For information on COVID-19 Vaccine, go to:
https://chesco.org/covidvaccine
---
Reservations for the West Sadsbury Township Landis Preserve, Pavilions & Softball fields are now being accepted.

---
Welcome to International Paper
International Paper Co. has paid $11.6 million for a 415,700-square-foot warehouse in West Sadsbury.  The building at 4581 Lower Valley Road was sold by VMM Eckman Management, an entity affiliated with J.D. Eckman.
International Paper operates another facility in Chester County in Toughkenamon in addition to maintaining several warehouses and production plants in Pennsylvania and South Jersey.
The West Sadsbury building sits on 42 acres.
International Paper is based in Memphis, Tennessee. Industrial packaging – the boxes used in e-commerce and to store and move products such as fruits, vegetables, beverages and durable good such as refrigerators – accounts for 70% of the company's revenue. Its packaging is also used in the health care and pharmaceutical industries. The company also makes paper used for printers, books and labels among other items.
---
A Message from Octorara School District
Dear Octorara School District Resident:
In preparation for the 2021-2022 school year, the Octorara Area School District is  finalizing plans to restart its annual census process. As authorized under Section 1351 of the Pennsylvania School Code, Octorara is expected to collect a careful, correct, and accurate enumeration or census of all children from birth to eighteen (18) years of age, who reside in the district.  This local census data provides critical information that helps the district comply with student attendance regulations, effectively plan for educational services, and calculate future enrollment trends.
Octorara's 2021 census is of particular importance for several reasons. First, it has  been many years since the school district conducted its last official census of children  living in the school district. Second, it is critical that the school district restart its secure census process as an extension of a more detailed enrollment study recently conducted by  the Pennsylvania Economy League (PEL). And finally, as the COVID-19 pandemic has  disrupted public education and displaced a number of students to other schools and educational programs, it is critical that Octorara have an accurate accounting of the number of students that will return to campus at the start of the 2021-2022 school year.
If you have children 18 years and younger living in your household, please visit the school district's website at octorara.k12.pa.us and click on the tab marked 2021 Census.  There you will find the enrollment study completed by the Pennsylvania Economy  League, a copy of school board policy #701 which directs the census process, and a link  to the 2021 census form. Please note, if you do not have children 18 years of age and  younger living in your household, it is still important that you complete the census form
to help us reconcile addresses within school district boundaries. Completing the census survey will not adversely affect your tax bill.
Please contact Mrs. Cheryl Todd, Registrar and PIMS Coordinator, at 610-593-8238  extension 3501 or ctodd@octorara.org should you prefer to receive a hard copy of the  census form and/or have any questions about Octorara's census procedures.
On behalf of the Octorara Area School District, thank you for considering my request.
Sincerely,
Michele M. Orner, Ed.D., Superintendent of Schools
---
A REMINDER: 
Smoking and/or the use of tobacco products on township property or in township equipment is strictly PROHIBITED
---
---
Donate Books at the Lanchester Landfill Recycling Facility

The Lanchester Landfill is collecting used books at the Lanchester Landfill Recycling Facility (7224 Division Hwy, Narvon, PA 17555).  Drop books in good, readable condition that have an ISBN barcode label on the book cover (or back) at the SLF shed (a sign should be posted shortly).
Questions? Visit the landfill website page under "Recycling at Lanchester" (residents).
MOST IMPORTANT – THE BOOKS HAVE THE ISBN CODE SOMEWHERE ON THE COVER.
The books will be resold/reused, and recycled. Proceeds will benefit Honey Brook Library.
---
The Atglen Library is offering Deluxe Window Service! (FLYER)
The "deluxe" part means that, no matter what you need, please see us at the porch window first. You will be able to pick up your holds at the window. We will be happy to pull books for you, help you print from your mobile device, and offer reading sugges-tions. Very limited browsing and computer usage, typically 15 to 30 minutes, will be available. But due to the coziness of our building and our small staff size, we need to limit the number of people in the building.
So when you visit us, wear a mask and stop at the porch window first. If someone is already on the porch, please wait until they are finished. Masks and distancing are required within the building. If possible, have one person represent your family. We are not yet offering in-person programs or gathering spaces. We miss you, but it's not play time just yet.
Our hours for the summer are
Monday through Friday, 10:00am to 6:00pm
Saturday 9:00am to 1:00pm
Check www.atglenpubliclibrary.org or the library's Facebook page for updates.
If you have any questions, please call us at 610-593-6848 or email us at atglenlibrary@ccls.org.
******

*****
NOTICE
As of  July 1, 2018, a permit is required to pave any driveway in West Sadsbury Township. Inspections will be carried out prior to paving and after the job is complete to insure that it was correctly installed per township specifications.  Contact the township office for additional information.
*****
 Recycling Economics Alert
Please wash the non-paper materials you recycle. Only recycle the items on the Recycle Right Flyer which can be found under the Recycling tab. CONTAMINATION is the issue. When recyclables are clean and separated from trash correctly, there is a market for those items. Only the items shown on the flyer can be recycled. The cost of recycling has risen dramatically and will affect your bottom line.  WHEN IN DOUBT, THROW IT OUT !
*****
How to Become a Volunteer at Your Local Fire Station
Fire stations across Chester County are in need of volunteers like you who are ready to help save lives and protect property right in their own backyard. That's why last year the Chester County Fire Chiefs Association launched HelpFightFire.com to help make it easy to understand the many volunteer opportunities available. Plus there's a volunteer inquiry form you can fill out that will allow members of your local fire station to contact you about your interest in becoming a volunteer and answer any questions you may have.
There are several ways to serve your local station, with open positions that will perfectly match your talents:
Firefighters: As a volunteer firefighter, you'll learn skills like how to advance a hose line, perform search-and-rescue operations, and position ladders strategically. We'll give you the training and equipment needed to stay safe at no cost to you.
EMTs: Our volunteer EMTs help save lives by transporting the sick and injured to the hospital. You'll be there to respond to specialized calls like auto accidents, carbon monoxide alarms and other rescue calls. Again, the training and equipment will be provided for free.
Fire Police: Help keep an emergency situation safe by directing traffic and crowds and providing general assistance to other first responders.
Junior Firefighters: Teens at least 14 years old can gain experience around a fire house as a junior firefighter. You'll lend a hand and begin fire training that will prepare you to become a full member at 18 years old. Volunteering as a junior firefighter is also a great way to secure community service hours and looks great on a college resume.
Administrative Volunteers: Non-emergency volunteers can also play a huge role. They help teach fire safety, assist in fundraising events, help with bookkeeping, human resources, website maintenance and other responsibilities. Whatever your skill set, we can use it!
By joining our team, you'll help make us stronger and your community safer. So what are you waiting for? Go to HelpFightFire.com. Volunteer today. Chester County lives depend on it.
Click on above links for information on the crisis facing local Fire, Ambulance, and EMS services.