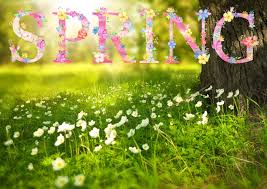 No matter how long the winter, Spring is sure to follow !!
 *******
Roadmaster Reminder :
Please make sure all cars and sports equipment are off the roads during the next two days due to the impending snow storm
*********
VOLUNTEER FIRE FIGHTERS NEEDED
The Chester County Fire Chiefs Association is working with your local fire company and the county on a campaign to help recruit new volunteer firefighters via our website www.helpfightfire.com
You may have read about the campaign in Sunday's Daily Local. If not, you can view the article here: http://www.dailylocal.com/general-news/20180225/chesco-fire-chiefs-association-launches-volunteer-recruitment-campaign
******
Smart 911
Plan Ahead for Any Emergency — Give 911 the information they need to help you fast
Sign up Today   -     www.smart911.com
**********
NOW ACCEPTING APPLICANTS
Do you know a high school senior? Western Chester County Chamber of Commerce is offering a $1,000.00 scholarship to an eligible student. To submit an application please contact 
chamber@westernchestercounty.com
You can click on the Residents tab and scroll down to Helpful Information to read more about this Scholarship Program
*****************
 It's Here !
Check out the 2018 Chester County Household Hazardous Waste Flyer located on the Residents Tab under Recycling
************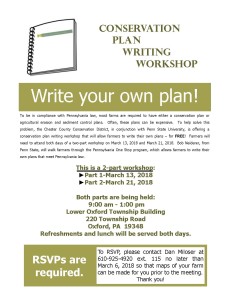 Click on Flyers to ENLARGE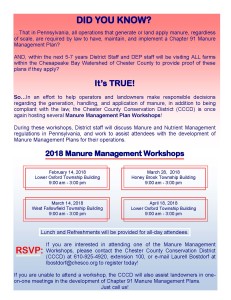 *******
**********
Potholes
It's that time of year again. Pothole season! Our road crew is trying their best to address this issue. Please be patient, they will get to them  within the next few weeks. In the meantime, if you notice a large or deep pothole don't hesitate to call the township.
***********************************************************************************************************************************************
West Sadsbury Township is a semi-rural community located along the western boundary of beautiful Chester County. The township is bisected by Route 30 – the historic Lincoln Highway – as it wends its way westward to neighboring Lancaster County and beyond. Several of the highway's original mile marker stones have been preserved and are visible along the township's portion of the roadway. Commercial and industrial development within the township is concentrated along the major state highways (Routes 10, 30, 41, and 372) that service the township and provide easy access to nearby suburban shopping areas, as well as to major urban areas like Lancaster, Philadelphia, and Wilmington, Delaware. The main Keystone Line of the former Pennsylvania Railroad (now Amtrak) passes through the southern end of the township, and a passenger station in the neighboring Borough of Parkesburg provides convenient access to rail travel throughout the Amtrak network…
Read More about the Township Address:  6400 N. Moscow Road. Parkesburg, PA  19365 Phone: 610-857-5969 Fax:  610-857-1415  Email address:  wsadstwp@comcast.net  Office Hours:  Monday, through Friday 9:00 a.m. to 4:30 p.m.
****Please Note: We are a small office and there may be occasional brief periods of time when you might find the office closed during these hours. If this should happen, there will be a sign on the door advising you of when we will return.
Thank you for your understanding.